Points to Remember while travelling on Domestic Flights within India
Make a complete itinerary: Prior to buying an air ticket, make a complete itinerary of your journey. At least be sure about your onward and return journey dates and as far as possible try to book a return ticket always. Booking the tickets for onward and return journey together are generally cheaper than booking two separate tickets for onward and return journey tickets.
Book a cheaper air ticket: Unless the travel expenses are sponsored by someone, majority of people try to book cheaper air tickets. Just because of the availability of cheaper air tickets, air travel became so affordable in India Although the income of a middle class man also increases considerably, but still everybody wants to save as much as possible. This habit always inspire the passengers to look for the lowest air fare availability in the market. Many travel websites do a comprehensive analysis of the lowest air fares availability on different airlines and show the best result suited to the passengers.
Apart from the lowest air fare, these websites also show the other relevant options for your search that include full service carriers like Air India, different time combinations and different combinations of non-stop and direct flights. So, if you wish to travel by Air India in its B-787 dreamliners or Air India Express, you can also book those tickets using a service of many online travel agencies (OTAs) in India.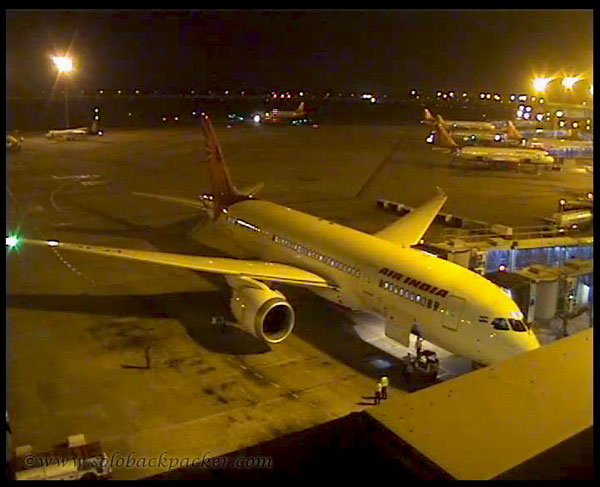 Fill correct information while booking a ticket: While booking a ticket online, always ensure that the name and other information entered in the form is matching exactly with your name and other details on the identity documents. If there will be any mismatch in name or any other information,it may cause you a problem during travel and sometimes it may turned in to a costly affair or denial of a boarding pass.
Make Sure that you are having a valid identity document: All travelers must present valid identification at the time of airport entry and check-in. The valid photo identification documents allowed are: Valid Passport / Driving License / Election Voter Card / Ration Card/ Aadhar Card/ PAN Card/ Photo Identity cards issued by Government, Public and reputed Private sector organizations / Photo Credit Card.
For school going children and students, college/school identity card is acceptable as a proof of identification. If infants are travelling with their parents, they are allowed to travel provided that the parents should have a valid identity proof. But, since children below 2 years of age can travel free (without an extra seat), airline staff may ask for the birth certificate of the child to cross-check their age.
If there are many travelers in a group travelling together, they all must have a separate identity proof, even if they are travelling on a single ticket/PNR. If anybody doesn't possess any kind of identification documents, he/she can produce an identity certificate issued by local M.P./M.L.A/D.M/S.D.M. etc.
Mention your Frequent Flyer Number: If you are a frequent flyer and the members of any air-miles programmes of the airline or credit card company, please make sure to mention it in your ticket booking to avail the benefits.
Buy a travel insurance: Buying a travel insurance is absolutely a customer's choice. It helps you to prevent from the losses in case of baggage theft, flight delays or any unwanted situations as per the term and conditions.
Inform Airline about any Special Needs: If you are travelling with a minor, or you are pregnant or you have requirement of the wheel-chairs..in all these cases you need some extra attention from the airlines staff during the travel. You should always inform the airlines well in advance about any special needs, preferably at the time of booking a ticket. Sometimes, it may cost you some extra bucks.
Rules regarding the infants and children: You should have the knowledge of the latest safety regulations regarding the infants and minor, while travelling with the infants or minor children.
Tickets Booked, Now time for packing:
Cabin Baggage: You should be aware of the cabin baggage rules of your airline. Every airline have different rules regarding the weight and dimension of the cabin baggage. Generally, a medium backpack or trolley bag with a laptop bag are allowed at every flight. However, always confirm it with your airlines to avoid any difficulty at the airport.
Check-in Luggage: Always try to pack as light as you can. Again, check with your airlines regarding the weight and dimensions of the free check-in luggage. If your luggage limit will be beyond that, you have to pay extra fee for your luggage.
Leave Gifts unwrapped: If you are travelling with any gift pack, as far as possible, leave it unwrapped. If any security official wish to inspect your packet, it will be easy to access and inspect and thus, save your time at security checks.
Knowledge of Restricted and Prohibited Items: If you have doubt on any of your possession, please always ensure that they do not fall under the list of restricted and prohibited items during air travel. You can not take some items in your cabin baggage, but you can take them in your check-in baggage. So, always pack cabin and check-in baggage accordingly to avoid any inconvenience at the airport.
Packing Done, Travel to the airport:
Check your flight status: On-time performances are the major issues for the airlines. But still, flight operations are dependent on the various other factors like weather and air traffic congestion. So, before leaving your home to the airport, please ensure that your flight is on-time, especially in the foggy weather at the airports like Delhi, when flight delays are frequent for the hours.
Check the arrangements at the destination: Though not necessary always, it is good to have a prior arrangement of airport transfer and hotel booking at your destination. You can also book these facilities online with the help of numerous booking portals.
Knowledge of Departure Terminal: At the larger airports like Delhi, domestic flights operate from the different terminals in case of different airlines. For example, at Delhi International Airport, Spice Jet, Indigo and GoAir operate its domestic flight from Terminal -1, while Indian, Jet Airways, JetKonnect and Kingfisher Red operate its domestic flights from Terminal-3 and both the terminals are at least 5 kms apart. So, always make sure and check that your flight operates from which terminal to avoid last minutes delay.
When I was going to catch my first flight of Air India from Delhi to Mumbai in 2005, I thought that the flight would operate from the domestic terminal-1. When I reached there, the security guard informed me that the flight was scheduled from terminal-2. Both terminals were 7 kms apart at that time and I hurriedly reached to the Termial-2 in the late night. Even today I got regular calls from many friends asking about their flight terminal. So always make sure that you are going to depart from which terminal at the bigger airports.
Always prefer Web or Mobile Check-in: As far as possible, preferably if you travelling with a cabin baggage only, try to check-in online or with your mobile phones. You can also print your boarding pass after online check-in. This way, you can avoid the long queues at the airport check-in counters.
Carry your travel documents: Make sure that you have your tickets, your identity card and other related travel documents with you before leaving your home to the airport. Try to keep these documents in your cabin baggage, so that you can easily access them.
Reach airport on time: Generally, check-in counters at the airport close down 45 minutes before the departure for all domestic flights for all classes. So, always try to reach the airport on time to allow the sufficient time for check-in and security checks.
At the airport check-in counters: Always bring your photo identity card with your ticket. After verifying your identity, the customer representative will provide you a boarding pass that states your flight's departure gate and your seat number. Airlines staff will check-in your bulky luggage and charge, if any extra fee will be required for your check-in baggage. At the time of check-in, please make sure that your baggage is identified correctly with placing baggage identity card, so that the airlines staff could not misplace your baggage during your flight
In the flight: Follow the instructions of the airlines cabin-crew members regarding the handling of electronic equipments, seat belts and flight safety.
At the destination: Do not forget to collect your check-in baggage from the luggage belts.
Know your rights as a passenger: Last, but not the least, you should always know your consumer rights as an airline's passenger in case of flight delays, baggage mishandling or any unwanted situations.
I hope this post will help you to plan your domestic air travel conveniently. Enjoy your flying in the sky.