13 Packing Hacks That Will Change Your Life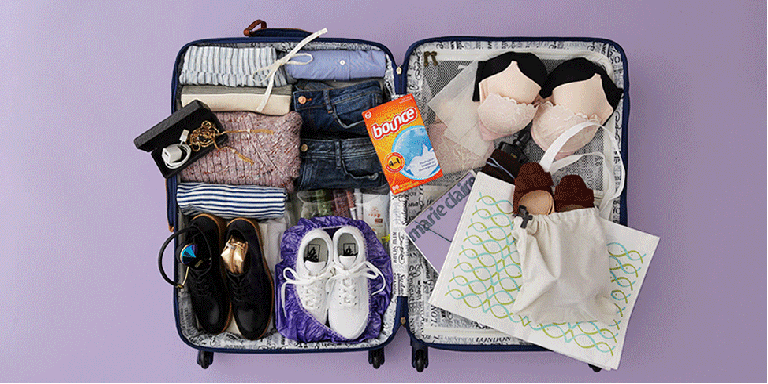 Whether you're going home for the holidays or taking a much-needed vacation, there is travel—and thus the ever-dauntingtask of packing—in your future.
Because every last inch of suitcase real estate counts, and you don't want to wrinkle your sweaters, break a precious bottle of Chanel No. 5, or worst case scenario: lose your bag at the airport, it's time to streamline/safeguard your approach.
Here, we've rounded up the most pin-worthy packing hacks in the game with help from HGTV star David Bromstad, who recently collaborated with Kipling on a vintage-inspired fall luggage line tailored to the stylish-yet-practical traveler—AKA you, if you do the following:
1. Roll, don't fold clothes
It's faster and will maximize your space! Reserve the classic layer cake fold for more delicate or wrinkle-prone fabrics.
2. Stack your bras
Save space while helping your bras maintain their shape by stacking them on on top of each other. You can even store you underwear inside of the cups.
3. Cover your footwear with shoe bags or shower caps
"You never want dirty shoes touching your clothes," says Bromstad, adding that the smell can transfer as well. Keep dirty shoes from mucking things up by placing them in shoes bags or shower caps, which are available at most hotels.
4. Pack two tops for every bottom
You're more likely to re-wear a pair of bottoms, then a top. So to avoid overpacking, stick to this rule: pack two different tops (perhaps a blouse and a sweater) for every bottom. As far as bottoms go, Bromstad believes you should always have light and dark wash denim options.
5. Pack your clothes inside out
Another way to avoid wrinkles as well as prevent stains, is to pack your light colored clothes inside out. That way if theres any debris, your whites and pastels are safe.
6. Pack the heaviest items closest to the wheels
Particularly when you're dealing with rolling luggage, you have to consider how your items will respond to motion. One important rule of thumb is to keep all the heavy items stored towards the wheels so weight is distributed evenly.
7. Stick dryer sheets in your suitcase
"For that out of the laundry freshness, pack some dryer sheets in the bottom and top of your luggage," advises Bromstad. "It keeps your clothes smelling clean." A few sheets of Bounce is all you need.
8. Put your toiletries in a transparent bag
Keep your toiletries and makeup in a see-through pouch. It will not only keep things confined in case of a leak, but you'll be able to see everything in one place, without digging through/mussing up your suitcase.